WHAT OUR CLIENTS ARE SAYING
"We didn't want to go over our budget, but really loved the look of the pot filler above the stove. Near the end of our kitchen remodel Design Craft came back to us and said they came in under budget in a few areas and were able to throw in the pot filler in at no additional cost. Our dream kitchen came true with all the little details we hoped for! Thanks Design Craft!"
"DesignCraft is a well organized company that did an amazing job. I would highly recommend them. Special thanks to Tracy and Jeff. I love my new kitchen!"
We are in love with our new kitchen and are very happy and satisfied with your service. Everything was done on a timely manner. We appreciate Jeff, Tracy, and Rob and the team for making our dreams come true. They were phenomenal and very professional. We enjoyed working with them and will definitely recommend your service to our family and friends. We will hire Designcraft Kitchen & Bath again when we are ready to renovate our master bathroom. Awesome job👏🏼👏🏼👏🏼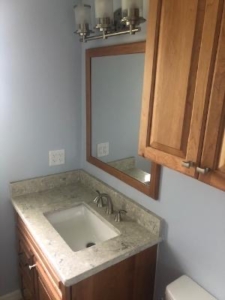 "My wife and I love our new bathroom. Jeff, Todd, and Tracy of DesignCraft were terrific to work with.. very experienced and had great suggestions when we needed them. They came up with a great plan for our vision of our new bathroom, and it actually looks better than even we had hoped for. Thank you DesignCraft!"
"My wife and I want to say Thank you to Design Craft for a great job on our bathroom remodel and replacement of side exterior door in our garage. Your entire team was very personable, friendly, and easy to work with. We were extremely impressed with your management and communication system which kept us informed throughout the project. Our initial contact with Jeff and Marketta gave us reassurance we had picked the right company. Then, we got to know Tracy and Barry quite well.
They are true professionals."
"The team at DesignCraft did a phenomenal job on my bathroom remodel. They were very professional and responsive. The quality of the job is second to none. If I had an issue, they were quick to fix it. Big thanks to Jeff, Tracy and Rob!"
"I used Design Craft for my kitchen remodel thru the pandemic and they exceeded my expectations!!!! Not only are they reasonably priced but also extremely talented, knowledgeable and professional. They completed my job on time and in a very neat organized way which allowed me to live through the remodel with little or no disruption to my lifestyle. The materials they use are top of the line. Everyone is professional, caring and nice. They really care about you and your home!!!! If you are looking for work done in your home this is the go to company. I will definitely use them again in the future and I highly recommend Design Craft."
"Used them for a kitchen remodel, based on referral from a neighbor with a similar layout. Overall they were timely, professional, offered good advice, did quality work, and communicated efficiently. Passed all inspections easily, the workers were friendly and respectful, and cleaned up nicely on a daily basis. Would definitely recommend this company to anyone looking for a kitchen remodel or other work. And we LOVE our new kitchen!!!"
"We had our kitchen remodeled which included replacement of all the cabinets. Honestly my wife and I didn't know what to expect because we've never had a kitchen remodeled. We've heard the horror stories and stress customers experience during a renovation project. This project couldn't have gone any better. Design Craft made our experience very pleasant. Their professionalism and expertise was evident throughout the process. You can tell their goal was to provide us with a satisfying experience throughout the renovation project. I can honestly say they exceeded their goal. They had a team of people that knew their business and went out of their way to make sure we were happy with the work that was done. One of many impressive things I liked is their close communication with us to make sure we were informed. If there was a problem with anything they didn't hesitate to come up with a solution. The craftsmanship of the work they did was outstanding! The kitchen looks awesome! I recommend this company to anyone that's looking to have their kitchen remodeled."
"We had our kitchen remodeled by DesignCraft. Jeff our sales person was highly knowledgeable, listened to our needs, and provided a great quote. Our kitchen is done and I'm very happy with how it turned out. The subcontractors used on our job were clean and professional. Thanks Jeff and Tracey ! When we downsize, we'll probably be calling you again."
"The Designcraft team was so great to work with. They finished our kitchen remodel and new floor on time in IRB. Their crews are hardworking and responsive. We loved the Buildertrend app which gave us access to all docs, pics, and calendars. Unexpected issues were discussed and solved with honesty and open conversation. TOTALLY recommend!"
"What an amazing transformation, the kitchen of our dreams came to life with the very talented DesignCraft team. Everyone was professional and each person we worked with had one objective- to make the homeowner happy – and we couldn't be happier. Thank you DesignCraft!"
"From the patience in helping on the design side to get what we wanted, through the quality of materials and workmanship, and including the efficiency and accurate scheduling, our project with Design Craft was an outstanding experience. We are thrilled with the finished product!!!"
"I would hire this company again in a heartbeat! We bought an older home which needed the kitchen and 2 full bathrooms completely gutted. Jeff called us right away, came to the house the next day and gave us a quote 2 days after that. Everyone we came in contact with, from design to office people to the people working In our home were very professional, friendly, responsive, and caring. More importantly they did a wonderful job, on time, and on budget. I LOVE my new home!"
"We hired them to do a facelift in our kitchen. They replaced the countertops and backsplash in our kitchen as well as a new sink/faucet. Everything went right as planned. Each trade came in and did what they needed to do with a high rate of skill and a smiling face."
"It was a pleasure working with the Design Craft team on our bathroom remodel. We were very impressed with how well the team communicated the day to day scheduling of the job and the end result was exactly as we expected. We found all the subs to be professional and courteous. Thanks again and hope to remodel again soon."
Schedule A FREE DESIGN CONSULTATION TODAY!
The best kitchens & baths start in the home, not a showroom!
Sign up for a FREE Design Consultation and have one of our design professionals come out
with our mobile showroom. Look at samples and talk about your kitchen and bath redesign goals
with a DesignCraft expert – all from the comfort of your home!
ABOUT
US
We Make Dream Remodels A Reality.
Whether it is updating your master bath to a chic modern look or remodeling a kitchen for a more functional family space, our team is here to listen to your remodel goals, create designs that match your vision, and value engineer your plan to keep the project aligned with your budget!
EXPERIENCED
PROFESSIONALS
With over 70 years of experience in the industry, our team of professionals will arrive uniformed in one of our mobile showroom vans, ready to listen and provide ideas and guidance on how to make your remodel experience fun and exciting while keeping quality and value in mind.
A COMPANY
YOU CAN TRUST
We Emphasize Trust And Value! No Drama. Just Honest & Upfront Pricing, Great Value, And Excellent Customer Service Throughout Your Project.
We understand the amount of trust that goes into hiring a contractor to update your home. We not only value that trust, but live for the excitement of delivering quality products and craftsmanship to our customers – at a GREAT VALUE. We keep our cost structure lean by eliminating the overhead of a brick and mortar showroom. We strongly believe that great design comes from being in space you're designing for. As a result we've developed a fleet of low cost mobile showrooms and a team of professionals that will come to you with everything in hand to help you visualize your remodel from the comforts of your home! Remodeling homes is our passion and it shows in every project we are entrusted with. Schedule your complimentary consultation today to experience the DesignCraft difference.